"His work has to do with precision of understanding and portrayal, humour in both, and fellowship as an ideal." Peter Sainsbury


THE PEARL (1976)
Documentary filmed in Bristol docks on board a sand dredging vessel showing the daily work and shipboard life of its crew. Filmed by Nick Gifford in the 1970s.
"I was at Art School when the Bristol Docks was still working, with steam tugs, tank engines, a Brunel designed dredger, timber loaded ships and summer paddle steamers. Woodyards, boatbuilding, a myriad of skills that shortly were to disappear.
By 1976 I wanted to catch something from what remained and got permission to film on the last sand-dredger operating out of the port. It was a life ruled by the tides and the thump of the diesel engine. We lit the cabin with 24volt lamps powered by the ship's generator. As a young man, the captain had commanded a brand new tramp steamer around this coast .
Alec Brown (who worked with me on Eric Davidson's BBC ..LAST NIGHT ANOTHER SOLDIER…) did sound and Pip Heywood cut when I had given up on it - I think he caught the atmosphere very well."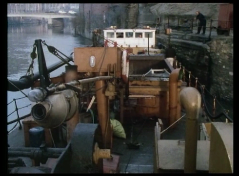 View a clip from the film!
Click on the video clip below to watch an excerpt
(4 min) on Vimeo:
Click on the frame below to view the full length film on Vimeo. (Playing time 18 minutes)