"His work has to do with precision of understanding and portrayal, humour in both, and fellowship as an ideal." Peter Sainsbury

FELLER BY THE NAME OF ….
Whilst filming a documentary in India for Judy, my AATON camera went wrong. I found a camera mechanic, who you knew at once was exceptional. He mended the AATON and invited us to visit a private Bombay studio the next day.
He was cameraman on a very old 35mm Mitchell, shooting a cinema weepie, and laughing so much he had to take his eye away from the eyepiece to avoid camera shake. As important visitors, we were placed in chairs below the camera in line of sight. We then were shown around the Permanent Sets constantly used in local feature films – the Temple, Jail, Maharaja's Bedroom, Hospital and so on. It was so wacky I felt I had to make a film around the idea. The outcome was "FELLER BY THE NAME OF….", the misadventures of an Englishman who arrives in 1930s Bombay. It is a lighthearted visual piece starring Fulton Mackay, Roger Booth and David Meyer.
My connections with India begin with my family. My uncles lived in Mysore, where, with my grandfather Eugene Van Ingen, made their reputation as taxidermists over the decades. Patterns of speech, patterns of behaviour, remembered from months spent with the Uncles, weave their way through the Farce, which is itself set partly in pre-independence India.
As the Farce winds its way through the studio complex, period manners come up against incidents from the making of a modern Hindi film: and at the end, the cast dances out of the studio into the chaotic streets of modern Bombay.
I shot the film on my AATON camera with a SUPER 16 gate. The cut SUPER 16mm NEGATIVE was then wet-gate printed (in a liquid ) to make a SUPER 16mm POSITIVE, which was then blown up to produce a 35mm NEGATIVE.
When CH4 transmitted it, their technical advisor insisted on showing it Academy (more square) rather than LETTERBOX as it was shot. I didn't win that argument.
Tony Abbott designed the film, Derek Williams did the Sound, Roger diVito was camera assistant, Jim McBride the chief electrician, and Greg Harris cut the film with great care. Clive Noakes graded the neg. I was very pleased with the look.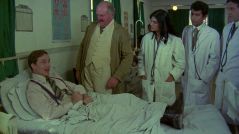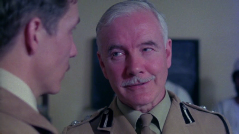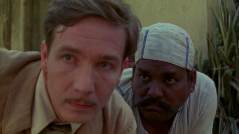 FELLER BY THE NAME OF…….
By 1983 I had sold eleven of my films to Ch4, so I used this money to fund this farce. Before we moved to France eight years later, I had not seen French farces like LES VALSEURS and LES FUGATIFS with Gerald Depardieu, but did somehow see Raj India in the same absurd light. I always felt English farce was about dropping trousers and racing round the sofa.
I believe this was to be Fulton Mackay's last film. I found him surprisingly nervous, but giving a superb performance. Roger Booth and David Myers could much more busk it, which suited my documentary history. (See Roger Booth and the single winged aeroplane at the end of the film- all his own words.)
George Galitzine was Assistant Designer and a very good Medical Student to Roger Booth's Doctor. Gillie McPherson sang. The camera bus driver could suddenly appear in my camera eyepiece along with Jim McBride the electrician dressed as a Catholic priest, as extras roped in for the crowd scenes..
View a clip from the film!
Click on the video clip below to watch an excerpt on Vimeo: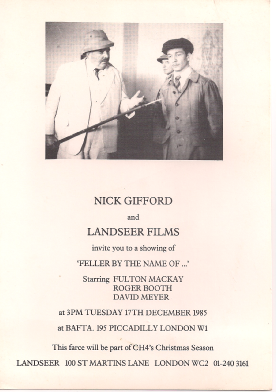 View the full length film!
Click on the frame below to view the full length film on Vimeo.
(Playing time 35 minutes)
Press Comment and Reviews
Nick Gifford's gentle, intelligent Raj drama — probably costing less than the lunch budget of The Jewel in the Crown — is a sort of Alice in Gandhiland, telling of an innocent who gets caught up in a film-set in India. Starring Fulton Mackay, it is a first-class farce unfairly scheduled in the post-lunch slump."
Dilys Powell
"Delightfully idiosyncratic comedy, directed by Nick Gifford, and set on the backlot of an Indian film studio in the `30s.David Meyer is a wide-eyed paper bag salesman who walks through the wrong door at Immigration and finds himself advancing deep into the realms of surrealism. The comedy is not forced, the escalation into absurdity is carefully handled, and the whole thing is imbued with a strong understanding of the British presence in India."
TIME OUT
" If you digested "It Ain't Half Hot Mum", a "Carry On" saga and some of the more obscure elements of Jean Cocteau's work, you might come close to Nick Gifford's last days of the Raj spectacle. Hiking off with a camera crew, a fistful of British actors (Fulton Mackay, David Meyer and Roger Booth ),the film was shot entirely on the backlot of the Bombay studios :an exotically dense farce which throws into crisis the pomp and circumstance of the crumbling British Empire David Meyer place the Alice in Wonderland paper bag salesman, who steps off the plane into this cultural time warp. Rich, lavish and blossoming with absurdity, this makes an animated departure from Gifford's track record as a documentary maker."
KATHY MYERS CITY LIMITS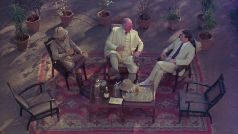 I had been given the name a young Indian fixer/Assistant director UDAY SHANKAR PANI, who has remained a family friend ever since the shoot. I told him how much money we had to spend in India, what I wanted and really left it to him. He was superbly organized, even got arrested on my behalf over the final long shot of the studio gates closing, and crowd scenes appeared very smoothly in my eyepiece. Did I hire really an elephant?
Later whenever I was filming in India I always tried to include Pani.