"His work has to do with precision of understanding and portrayal, humour in both, and fellowship as an ideal." Peter Sainsbury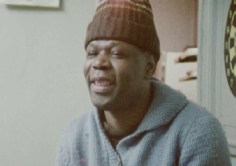 A Good Father
Spend some time in the company of Sid Williams and his family - you won't regret it. This intimate, quietly observed documentary charts the day-to-day life of Jamaican-born Sid Williams and his six children, who live in the Montpelier area of Bristol. The subtle capturing on camera of the family's reactions eloquently demonstrates documentarist Nick Gifford's signature sensitivity and integrity.
The film exudes warmth and candour and was the second in a trilogy of films that followed the Williams family. It's a sequel to Sid's Family (1972).
The final film, Sid's Children, catches up with the family in 1989. The films were shown in independent cinemas and in Channel 4's True Stories slot in 1989. The trilogy recalls ITV's landmark series Seven Up, which has followed the lives of 14 British children since 1964.

Click on the frame below to view the full length film on Vimeo. (Playing time 59 minutes)